The cloud computing market has grown into a complex ecosystem of cloud-enabled technology and services. The portion of enterprise IT spend dedicated to cloud computing is increasing. By 2022, worldwide public cloud service market will grow to $331.2 billion, spending on Infrastructure-as-a-Service (IaaS) is predicted to increase to $76.6 billion, Platform-as-a-Service (PaaS) to $31.8 billion, and Cloud Application Services (SaaS) to $143.7 billion. Gartner
By making the shift to cloud application development, enterprises can benefit from on-demand computing resource power, pay-as-you-go features, easy scalability, to the use of the latest technology stack.
Shades of Cloud Computing Services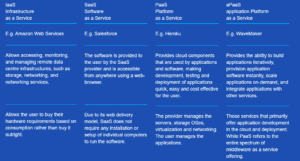 Enterprises that are further along the road of digital transformation that are looking for ways to add business value by enhancing capabilities are revamping application development and delivery models. To rebuild applications to be fully cloud-native, they are running PaaS layers in containers instead of lifting and shifting to IaaS.
What's the difference between aPaaS and PaaS and the capabilities that define it? Find out.